String Fest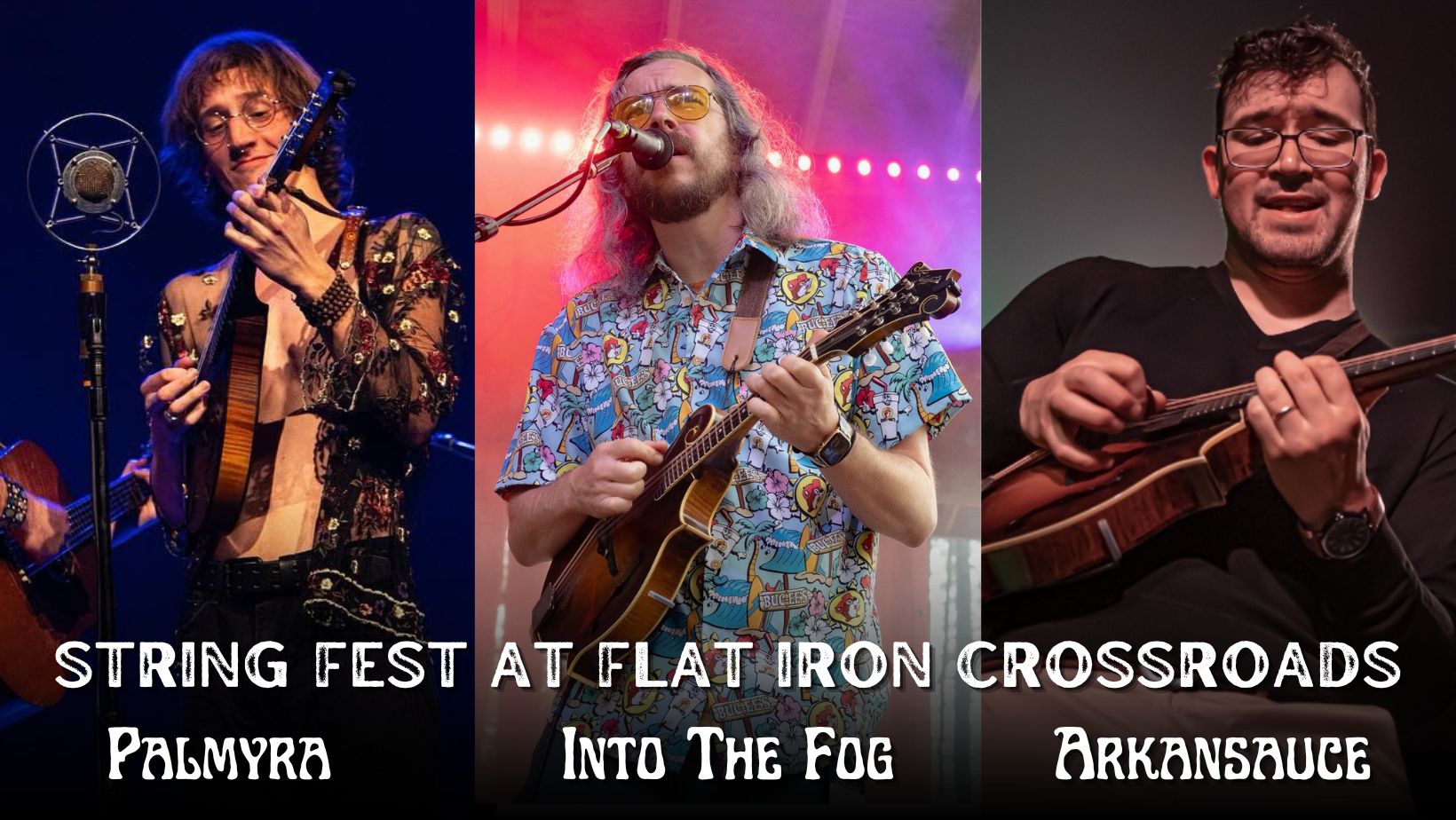 Featuring artists Arkansauce, Into The Fog, and Palmyra. Doors open at 2, music starts at 3!
Established in the Shenandoah Valley, Palmyra's set explores the fusion of traditional folk string instruments, three part harmonies and foot percussion. The trio captures the collective spirit of three Virginia natives, Teddy (he/him), Manoa (he/him), and Sasha (they/them), often described as a distant cousin of the progressive folk band, Punch Brothers, mixed with elements of Oliver Wood or the Avett Brothers. Palmyra's songs are intimate and contemplative, with arrangements that allow them to create the illusion of a full, larger-than-three ensemble. The trio's sound is a nod to Appalachia and Midwestern Americana, apparent through their stirring craftsmanship and dedication to a folk-driven, innovative experience throughout each live performance.
In 2022, Palmyra made their Newport Folk Festival debut, were named the FloydFest 2022 On The Rise Winner, and performed over 150 tour dates on acclaimed stages up and down the east coast, including a support tour with national headlining act, Illiterate Light. They are currently working on writing and recording new music in their new home of Richmond, VA and will be touring all of 2023.
—
Winners of the 2021 MerleFest Band Competition, Into The Fog is a genre-jumping string band based out of Raleigh, North Carolina. With its members having various backgrounds ranging from bluegrass, country, rock, to funk, Into The Fog creates a musical melting pot of sounds in an acoustic/newgrass setting. The band is made up of Brian Stephenson(Acoustic guitar, Vocals), Winston Mitchell(Mandolin, Vocals), Derek Lane(Bass, Vocals) and Connor Kozlosky (Electric guitar, Vocals).
Originally formed in Wilmington, NC, Into The Fog immediately hit the ground running as a band by heading across the country to compete at the 2018 Telluride Bluegrass Festival Band Competition only a few months after coming together. That cross country trip was recorded by friend of the band and videographer Mason Godwin in his documentary Band #7:The Ride to Telluride.
After the Telluride trip, the band got to work playing as much as they could around North Carolina. Becoming a mainstay at over 30 different breweries around the state Into The Fog started to quickly make a name for themselves. Then in November of 2018 the band went to a cabin outside of Waynesville, NC and spent a week recording their debut album Wishin' It Would Rain, which was released on February 22, 2019.
"The trio crafts a dynamic mix of songs and sounds, from the gypsy feel of "Caawphonation" to the running-from-Johnny-Law feel of instrumental "Cedar Island Rendezvous."- Brian Tucker(Star News)
With their debut album under their belt Into The Fog started to pick up momentum exchanging brewery gigs for music venues and festivals with opportunities like playing Shakori Hills, Rooster Walk, FloydFest, MerleFest, NC Homegrown Music Festival, IBMA, and Front Porch Fest along with opening slots for national touring acts Sam Bush, Ghost of Paul Revere, Jon Stickley Trio, Keller & The Keels and Town Mountain. Into The Fog solidified their sound further with their 14 track sophomore album Runnin' Blind and Chasin' Time which was released in May of 2021.
—
Arkansauce calls forth melodies of the Ozark Mountains' rolling hills and raging rivers with their distinct blend of newgrass. This progressive string quartet features Tom Andersen on bass, guitarist Zac Archuleta, Ethan Bush on mandolin, and Adams Collins on banjo. Their music features improvisational string leads matched with complex melodies, intriguing rhythms, and deep thumping bass grooves. Each member sings lead and harmony parts as well as contributes to the lyrics, which offer authentic, intelligent songwriting with hard-hitting hooks.
Music Mecca's Spencer Nachman calls them a "fiery, finger-picking string band… What is apparent at any Arkansauce show is their positivity and desire to uplift the audience's spirit, no matter the circumstance."
They are a band inspired not only from their home state of Arkansas, but also throughout their travels. "We are a band that spends most of our time in the back of a van hurtling toward long nights, good times, and a destiny unknown," says Ethan. "Our inspiration is gathered by events unfolding in our own adventures in real time. These days, the desire to create, inspire, and redefine within our scene seems to be the main driving force behind our music. From a young age we were huge fans of live music and were introduced to a lot of great music by our families."
Arkansauce independently released their 5th album, OK to Wonder, on April 21, 2023. With 11 original tracks—ranging from upbeat and stimulating to contemplative and encouraging—the collection is filled with songs of revelry, wonder, insight, and whimsy.
The album was met to critical acclaim with reviews in Bluegrass Today ("a truly inspired effort"), Ameriana Highways ("this is high-octane stuff, meticulously rendered & with lots of spirit"), Americana UK ("that's a bluegrass line-up right there – but this isn't your grandpappy's bluegrass"), and Blog Critics; premieres by The Bluegrass SItuation and Glide Magazine. Songs from the album are in two official Spotify Playlists: "Indie Bluegrass" and "Fast Grass" and have received airplay on SiriusXM Bluegrass Junction.
They've also interviewed and performed a few of the new tunes in studio in their homestate with Northwest Arkansas Democrat-Gazette and Little Rock's THV11.
The band was founded in 2011 after Zac and Ethan, who had grown up across the street from one another in Johnson County, Arkansas, moved to Fayetteville. Tom and Adams were slowly introduced to them through the tight-knit Fayetteville music community. During a fateful gig at a Riverstomp Music Festival in 2014, the band was down a couple of members, and Adams and Tom filled in on the fly—magic was made on the stage that night, and the lineup was forever changed.
Having played shows from California to Connecticut over the last several years in addition to two tours in Europe, the band is no stranger to the road. They supported Yonder Mountain String Band for a leg of their summer tour in 2019, played mainstage spots on festivals with bands (including but not limited to) Greensky Bluegrass, Railroad Earth, The Del McCoury Band, Billy Strings, Leftover Salmon, Tauk, The Wood Brothers, and shared the stage with the legendary Sam Bush as a guest.