Reggae Fest
September 16 @ 3:00 pm

-

9:00 pm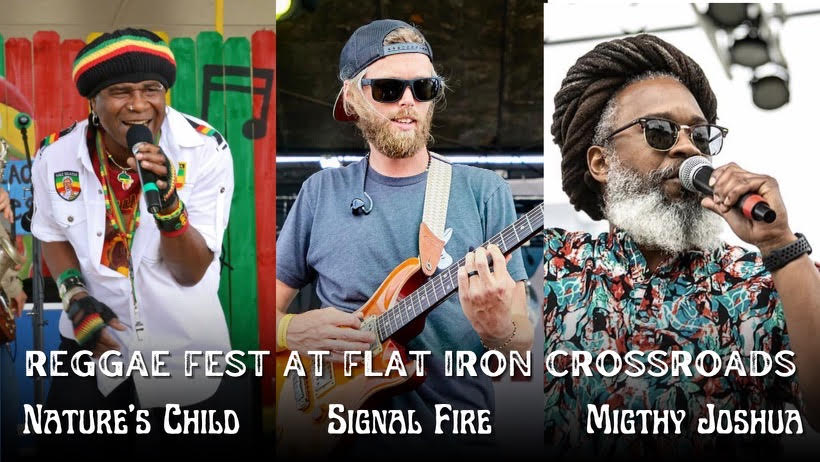 Nature's Child is the hottest reggae sensation on the east coast, based in Virginia Beach, Virginia. This band is multi-cultural, multi-talented with roots in rock, jazz, latin, blues, funk and of course reggae. Their CD "THE FIRST SUPPER" has gotten rave reviews from all who have heard it. The energy that they bring to the stage is contagious and highly explosive. We recommend you check this group out. The band has been up and down the east coast opening for the likes of Steel Pulse, Burning Spear, Third World and many of reggae's top artists (EG DAMIEN MARLEY)
—
Signal Fire is a group of diverse musicians with a common goal, to spread unity through music. Hailing from the coastal town of Wilmington, North Carolina Signal Fire brings a unique blend of reggae/rock music for the masses. Since their inception in 2013, Signal fire has stayed on the move playing over 150 shows a year sharing the stage with acts such as SOJA, Stephen Marley, Morgan Heritage, UB40, Tribal Seeds, Collie Buddz, Dirty Heads, and more. Signal Fire's latest release "Lift Up" debuted at #1 on iTunes and #8 on Billboard reggae charts. Mixed and co-produced by Llamar "Riff Raff" Brown (whose credits include Stephen and Damian Marley, Raging Fyah, Richie Spice, and 2016 Grammy Award winners Morgan Heritage), "Lift Up" is a step forward in the evolution of the Signal Fire reggae/rock sound. Through years of grass roots approach, Signal Fire has built a loyal following with their uplifting music and message.
—
Independent Reggae Artist Mighty Joshua engages audiences by opening minds and activating bodies through song. Conscious lyrics flow freely to create distinctive refrains that pulse with pride against rhythms rooted in percussion. His soulful exploration in the evolution of sound creates an expression of reggae for the modern day.
As Virginia Reggae Ambassador (2015+2016) and Artist of the Year (2014, 2015, 2016) Mighty Joshua advocates for reggae music by sharing his love of the genre and culture with meaningful performances for the masses. Mighty Joshua's self-titled debut solo album is a life inspired compilation that encourages reflection and empowerment for oneself, community, and beyond. The official "Mighty Joshua" video has aired on Virginia Currents, and his single "Full Circle" was a featured track on Relix Magazine's Compilation CD for the October/November 2014 issue distributed to subscribers and newsstands nationwide.
Mighty Joshua plays in a multitude of arrangements including high energy live performances with support of his back-up band the Zion #5 and as an acoustic configuration known as Roots Covenant. From mountain top festivals, to intimate club gigs, he invites listeners of all ages to experience the spirit of reggae.
His musical roots in African percussion led to experimenting with sound and rhythm. Soon after exposure to Djembe and Djun Djun drums they became a part of his playing repertoire which also includes the Didgeridoo. Mighty Joshua played percussion and supplied backing vocals for Corey Harris albums "Father Sun, Mother Earth" and "Fulton Hill Blues" and has opened for several internationally acclaimed reggae acts including Steel Pulse, Culture w/ Kenyatta Hill, the Meditations, the Itals, and Ziggy Marley.
Past projects include Jah Revelations, Richmond Dub Collective, and Antero. When he's not living the life of a professional musician, he enjoys integrating music for social awareness and celebrating the impact individuals make. Mighty Joshua is dedicated to making a difference by working closely with several non-profit organizations both locally and globally, including the Makindu Children's Program in Kenya.