St. Patrick's Day Party with Poisoned Dwarf
March 17 @ 7:00 pm

-

9:30 pm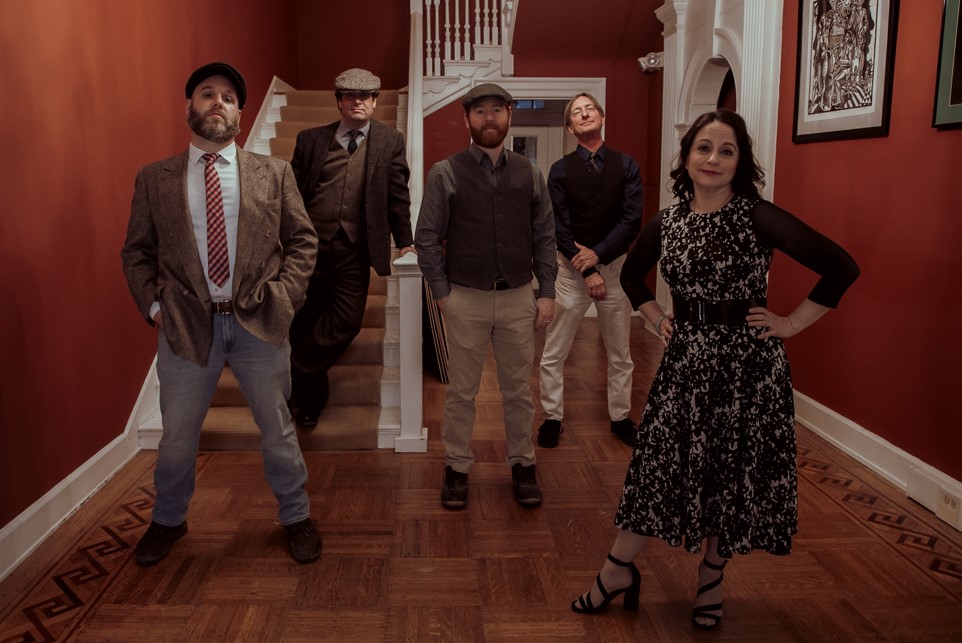 Unfortunately, at this time tickets have been sold out for this event.

Poisoned Dwarf is a Celtic music group that plays virtuosic, innovative and passionate renditions of traditional Irish and Scottish music on acoustic instruments. Five talented musicians create a driving sonic energy that has been captivating audiences for over a decade with whistles, flutes, violin, guitar, percussion, and Uilleann pipes together with exciting and lyrical vocals. Poisoned Dwarf performs at a wide variety of musical venues from highland festivals to theaters, from churches to sophisticated listening venues throughout the East Coast, to the occasional pub just for fun.
Thomas DeRose
Thomas DeRose has been playing Irish flute for about 20 years. Tom's music career began at the age of ten when he joined the Colonial Williamsburg Fife and Drum Corp as a fifer. He learned to love music from the British Isles at the Corp and in 1998, he tried his hand at the Irish flute. He quickly found out that even though the fingering was the same as the fife's, the breathing was different. So he launched into a self-guided search for technique. His love of the instrument lead him to listen and learn from the best. The Chieftains, Dervish, Lunasa, The Bothy Band, Conal O'Grada, Nomos, Boys of the Lough, Matt Malloy, Kevin Crawford, Cathal McConnell were his inspiration and mentors. In 2002, Thomas decided to start a Celtic Band with banjo player Eric Hunter. Soon, Stewart Pittman joined them on pipes and whistles, Poisoned Dwarf was born. Personnel has developed and changed through the years but the band carries on and continues to play traditional Celtic music in a fun and engaging way.
Mei-Li Garcia
Mei-Li was born in Sevilla, Spain to a musical family and began playing Suzuki violin at age 3. Her earliest musical experiences included singing and dancing flamenco with her talented musical family and running around Europe with the other band children as her father's rock band, Smash, went on tour. She began studying violin formally with theSuzuki method at age 3, and as an older child, studied violin and voice at the Conservatory of Seville, Spain eventually going on to Major in Music at the Mason Cross School of the Arts at Rutgers University and the College of William and Mary from which she holds a double Bachelor of Arts in Music and History.
Wayne Hill
Wayne Hill has had the good fortune to enjoy a lifetime of music making with family and friends. Along the way his love for chamber music led to a decades long passion for folk music in general and Traditional Irish Music in particular.
A stroke of luck had him cross paths in early 2005 with a few colleagues at Colonial Williamsburg and their band, Poisoned Dwarf. Thomas, Stewart, Lance, Eric, and Cassie were all helpful and patient (!) with his continuing development as a folk musician, all of whom remain lifelong friends. That trend continues aboard Admiral DeRose's ship with Patrick and Mei-Li.
Wayne is always 100% "in" regardless of the project: teaching for the Williamsburg Montessori School, performing, recording, composing, or for his music related work since 1992 for The Colonial Williamsburg Foundation (including winning two Emmys).
Inspired by the fiddling of Mairéad Ní Mhaonaigh and Tommy Peoples, the piping of Willie Clancy, and the Irish Flute playing of Matt Molloy, Wayne's personal quest to develop as a traditional fiddler continues while also enjoying the pleasure of music making with PD's members and their listeners.
Lance Pedigo
Lance Pedigo got his start in his musical life as a young drummer in the Colonial Williamsburg Fifes and Drums. After graduating from the program, he continued his musical studies at James Madison University graduating with a major in Music, percussion. After some years in New York performing in broadway and jazz venues, Lance returned to Williamsburg, VA and took over leadership of the Colonial Williamsburg Fifes and Drums Corps for 25 years and manager of the Music Department at Colonial Williamsburg. Lance is a truly versatile musician performing throughout the country as a percussionist with a rock band, London, a Klezmer band, Bagels and Fralox, and various jazz and Baroque musical ensembles. Lance is a founding member of Poisoned Dwarf breathing life and energy into old tunes with his masterful bodhran playing.
Patrick Rooney
Despite being a native of upstate New York, Patrick found his musical oasis in Williamsburg, VA. Prior to his introduction to the tidewater area he worked as an actor in regional theaters and also worked in film/tv production out of NYC. His musical life began early in church choirs, but was truly sparked when he was introduced to the electric bass at 14. Rock n roll was his language until opportunity called him down to Virginia. Within a short time, he was introduced to Poisoned Dwarf and he hasn't looked back. With fire in his belly and melody in his heart, Patrick provides a raw, driving energy on the guitar and mandolin.
Stewart Pittman
Born in Williamsburg and joined the Colonial Williamsburg Fifes and Drums in 1990 as a snare drummer. During his time as a juvenile performer he played for notable individuals such as Fred Rogers of Mister Rogers' Neighborhood in 1993 and for the arrival and visit of Jiang Zemin, the Premier of China, in 1997. After his tenure as a performer with the Fifes and Drums, Stewart worked for nearly eight years as a military history interpreter at Colonial Williamsburg's Public Magazine while attending nearby Christopher Newport University. In the summer of 2006, Stewart was hired as drum instructor for the Fifes and Drums and as an event coordinator for the department of Historic Area Events. Stewart comes from a family of bagpipers, and he is a master at all manner of bagpipes and Celtic wind instruments. He can usually be found surrounded by tin whistles, low whistles and his particular favorite, the Uilleann pipes. He is one of the founding members of Poisoned Dwarf and is a sought after performer on the bagpipes and whistles with various Virginia Celtic ensembles.